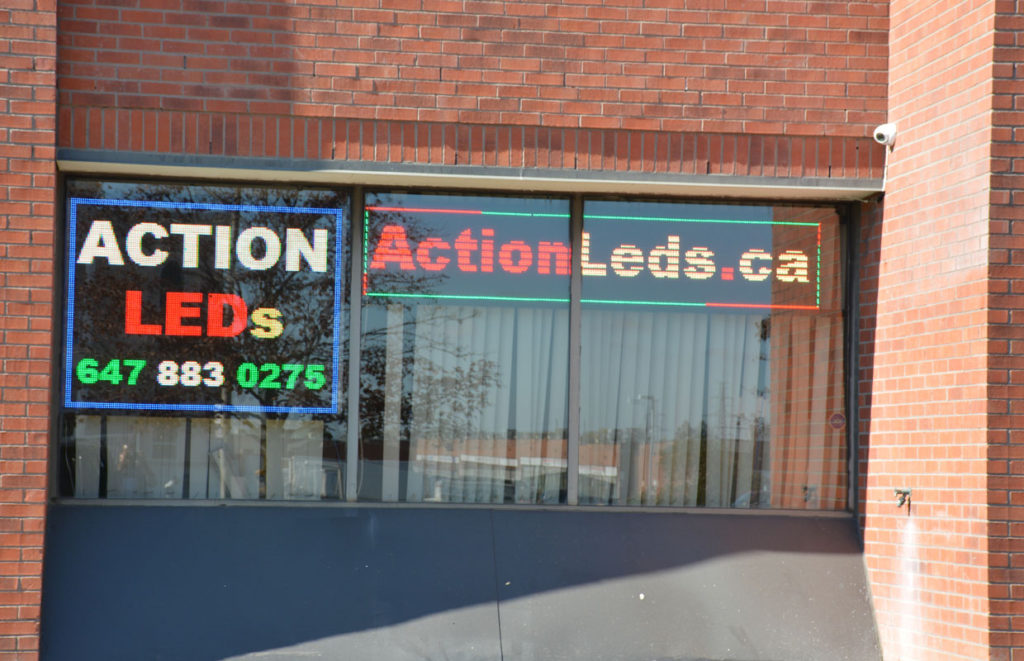 Action LEDs is always committed to providing new advertising products in the market. We do all kinds of signs and we are located in Scarborough (Toronto), Canada.
PROGRAMMABLE LED SIGN / LED SIGN FOR BUSINESS
We are making custom made indoor and outdoor LED sign. These signs are Three colour, which is called as Tri colour LED sign and another is Full colour LED sign. These LED signs are programmable and can display messages, pictures and small videos. In outdoor LED sign we can make custom sizes Pylon sign.
New Products for Advertising :
Transparent LED Sign / Transparent LED screen
Transparent LED screen is amazing see-through technology.  It allows to advertising messages and video running without blocking any window view. This Transparent LED sign is programmable sign.
This is best alternate of normal LED screen. Transparent LED screen is excellent option for those who want to display their advertising content without blocking  view of glass windows. This Transparent LED screen is available with different pixel pitch. Its can controlled by wifi controller or any video processor for live shows. This Transparent LED screen also can be use in any public gathering and some shows with amazing impact result. It feel like holographic impact on people mind. It can used for displaying any messages, videos and some special effects in shows to attract people
Transparent LED screen is latest technology for advertising different contents of businesses. This transparent screen opens up new creative options that were not possible with LCD screens and other LED screens.
Fabric Light box : This product is frameless fabric light box. This is very effective for indoor and semi outdoor advertisement. This is made by LED light box and front side is transparent fabric. This fabric can change according to different promotion and services. When special LED lights turn on in Fabric light box, it give very powerful light effect to attracting peoples. These fabric light box can be use for shops, restaurants, offices and malls. We are making custom sizes of Fabric light box and it can be Single sided and double sided. Our Fabric light box using special LED with 360 degree lights to display bright images without any hot spot or shadowing.
Holographic Advertisement:
Holographic glass screen for window : Holographic screen are made with holographic film and advertisement running through rear projection. This Holographic screen can be transparent or white colour, or Black colour. These holographic screen is used to advertising products and services on Glass windows. This screen is laminating on glass windows and from back side projector running advertisement on glass. It look very amazing when advertisement running on glass with some special effects. Holographic transparent screen can use at shops, offices, mall and exhibitions.
Holographic Fog Screen : Fog screen is made by special machine and video or advertisement can run on this fog screen. on fog screen advertisement running in Air. From this Fog screen, people can walk through, even they can touch fog screen and still advertisement running in Air. This screen can be used in big stores or any event, shows and party.
Holographic Fan : This is new way of advertisement. Holographic 3D Fan can install on wall and when holographic Fan is running then movie or advertisement running through Fan. It look like this advertisement running in air. This Fan has micro SD card, where we can copy images and messages with special effects and it can see in air. These Holographic 3D fan is coming is different sizes 42cm, 65cm,
Othere Sign : We also making Snap photo frames with lights, Panel lights for items display on salves, Channel Letter, Light box sign.
For any information for any kind of sign you can call us : 647-883-0275